---
Emancipate yourselves from mental slavery. None but ourselves can free our minds........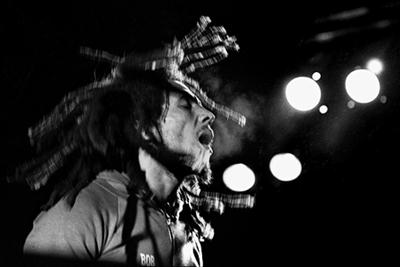 Robert Nesta Marley born February 6, 1945 in Nine Miles, St. Ann Jamaica, transcended the humility of his rural beginnings to become a million-selling artisit and entertainer whose pleas for brotherhood, justice and peace achieved international fame.
At the young age of 16 he started singing professionally, releasing his first single "Judge Not". Under the coaching of Joe Higgs, Bob Marley met two other youngsters Bunny Livingstone & Peter Tosh and together the Wailing Wailers group was formed in 1963. It was the time when "SKA", the hot new dance floor music with a definite back-beat was popular.
Later that year The Wailing Wailers released their first single "Simmer Down". Over the next few years they put out more than 30 singles that properly established the group. Then in 1972, Island Records president Chris Blackwell signed the Wailers to a record contract allowing them to release records under the "Tuff Gong" label. After there first two albums the group broke up leaving Marley as the head of the band. A female back-up group called the "I-Threes" - Rita Marley, Judy Mowatt & Marcia Griffiths was then added to the band and the new group was named
"Bob Marley and The Wailers".



Give thanks and praise to the Lord and I will feel alright...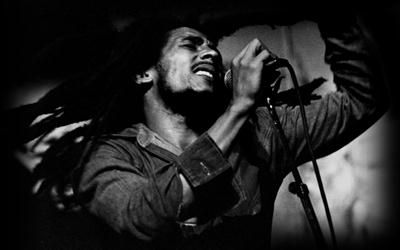 Bob Marley - the first superstar from the Third world was one of the most charismatic performers of our time. He gave the world Reggae Music, sold several millions of records worldwide and died at the young age of 36. His legacy lives on in his children and the many artistes continuing to strive to bring Reggae music back to its roots.




More on The Bob Marley story here.
LINKS ON/ABOUT BOB MARLEY


[ ~ Home ~ ]
---
1999 © PrymeTyme.