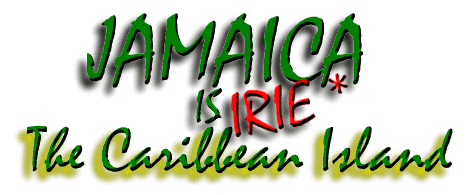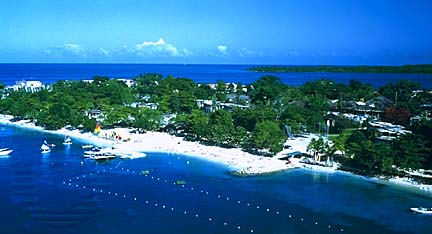 JAMAICA IS LIKE NO OTHER ON EARTH WITH IT'S ENDLESS STRETCHES OF SILVER BEACHES AND SAPPHIRE SEAS.
Jamaica is "Xaymaca" land of wood & water.
Jamaica is "Reggae, Ska, Soca & Rocksteady".
Jamaica is "Rum and Red Stripe".
Jamaica is "Kola Champagne, Mackaback Soup & Manish Water".
Jamaica is "Rasta, Pocco, Jonkonnu, Iyah & Nyah".
Jamaica is "Kus Kus. Musmus & Patoo".
Jamaica is "Anansi & Big Boy stories".
Jamaica is "Samfi, Ginnal, Scuffler & Scanker".
Jamaica is "Jackfruit, Neeseberry, Star Apple & June Plum".
Jamaica is "Busta, Icey Mint & Paradise Plum".
Jamaica is "Tinking Toe, Drops, Gizzada & Grater Cake".
Jamaica is "Dunkonoo, Run Down & Blue Draws".
Jamaica is "Kin-Puppa lick, Rahtid & Gouzum".
Jamaica is "Cease & Settle, Haul & Pull-up and Nuff Respect".
Jamaica is "Irie, Nyabingi, Boogeeyaga & Legobeast".
Jamaica is "Cool Runnings" and "No Problem".
Jamaica is the largest and most westerly English speaking island in the Caribbean, 146 miles long and 51 miles wide. Jamaica is situated in the Caribbean Sea - 600 miles south of Florida, 100 miles southwest of Haiti and 90 miles south of Cuba. With low coastal plains and its best beaches on the north and west coasts, Jamaica is mountainous in the interior with a peak in the Blue Mountains of approximately 7,402 feet.
Jamaica was colonized by Spain in 1494, seized by Britain in 1655 and achieved independence from Britain in 1962. The country is divided into three counties - Cornwall, Middlesex & Surrey - which are divided into 14 parishes: Kingston, St. Andrew, St. Thomas, Portland, St. Mary, St. Ann, Trelawny, St. James, Hanover, Westmoreland, St. Elizabeth, Manchester, Clarendon and St. Catherine. Each parish has a capital town that is the center of Local Government administration. Kingston, situated in the south-eastern part of the island is the Capital City.
The climate is very tropical and perfect for vacations year round. For an update on the beach weather go here. For the latest happenings check out the Jamaica Tourist Board.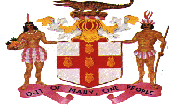 Jamaica is "Out of Many One People"
Jamaicans are of African, East Indian, Chinese & European descent.
The estimated population (July, 1996) was 2,595,275.
The motto 'Out of Many One People' is very significant in Jamaica where the blend of the cultures and different backgrounds gave rise to many types of music, dance and native dishes. The Africans brought drums and other instruments to transcend barriers of language between the tribes. Over time the music became influenced by the Europeans giving rise to a more modern Folk dance like the "Quadrille". These folk songs and dances represent many forms of tradition and range from the days of slavery to Emancipation. The native dishes comprise of the many flavors of the people and add to the variety. Of all the dishes Rice and Peas (rice cooked with red peas); Saltfish (then an economical food source of the slaves) prepared with Ackee (pictured below) originated from Africa & deemed the National Dish; Curry Goat (indian influenced); Jerk Pork/Chicken (very spicy marinated) and Patty (pastry filled with ground meat) are the most popular. A signficant amount of Jamaican culture is African based. The slaves brought a wealth of folk and tribal histories to the island which have been handed down through generations, including herbal remedies and Anansi stories (folklore).
Jamaica has one of the richest and most varied landscape in the region. The great variety of terrain and climate allows virtually everything to grow there. Visitors can step into a country market and see a vast array of tropical fruits and vegetables with such names as - callaloo, dasheen, soursop, breadfruit, ackee & otaheiti apple. Jamaica's main export (other than Tourism) are alumina, bauxite, sugar, bananas, Rum and the world famous Blue Mountain Coffee.

Jamaican Rum is as good as it gets. Our 151 proof variety packs a punch. Try it at your own risk!
---
Jamaica is Waterfalls, Rivers and Streams
| | |
| --- | --- |
| | Jamaica is REGGAE. - Yes indeed, Reggae Riddims have been introduced all over the world by its well known stars such as the Hon. Robert N. Marley, Peter Tosh, Jimmy Cliff, Marcia Griffiths, Shabba Ranks, Buju Banton, Beanie Man, Sanchez, Patra and Lady Saw. - YES! Reggae de bout. |
Jamaica is Carnival
CARNIVAL IS HOT, DON'T MISS IT!
---
Everyting Irie...Walk Good !

---
PrymeTyme@1998